Database Development | Database Application Development
In addition to custom web enabled software development for business applications, PCMechanic also provides database application development and web database development services using the latest application development methodologies and web database design tools. We use the latest software development technologies including PHP, C#, .NET versions 1, 2, and 3, ASP.NET, and VB.NET to insure that your custom database software will achieve maximum reliability and performance. PCMechanic database consultants will work with you to create an optimum database design and work with our database programming staff to create a quality custom database solution that fulfills your enterprise requirements. The entire database application development process will be monitored by our project management and quality control team and PCMechanic provides a development testbed so our clients can participate in each stage of the development process.
Our custom software design experts can guide you through the tasks of selecting business processes that are suitable for service via the web, assist with corporate branding, navigation and presentation strategies, design the necessary supporting databases, and identify any necessary software integration links. Once the design is complete our database development team will construct and optimize the supporting databases and our custom software developers will build the custom web pages required to support your application.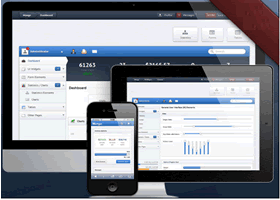 D
eciding how to deploy next-generation applications requires both expertise and experience. Specialists of PCMechanic have been working on custom business applications since 1996. PCMechanic encompasses all stages of development, from conceptualization to implementation.
We are specialists in mission-critical application development, e-commerce, CRM software development, e-marketing systems, data management systems, business application programming and reporting systems . As the mobile market grows our business application developers pay special attention to leveraging our expertise in providing functionality and access to all mobile platforms.
Off-the-shelf software that is supposed to be one-size-fits all often doesn't fit. Your company is unique and has unique processes and needs that may not be met by packaged software. We can start from scratch or build on existing programs so that instead of "good enough", your applications meet your business's unique and specific requirements. Customized software provides you a significant competitive advantage by allowing your business to run efficiently and effectively from anywhere.PCMechanic Inc.